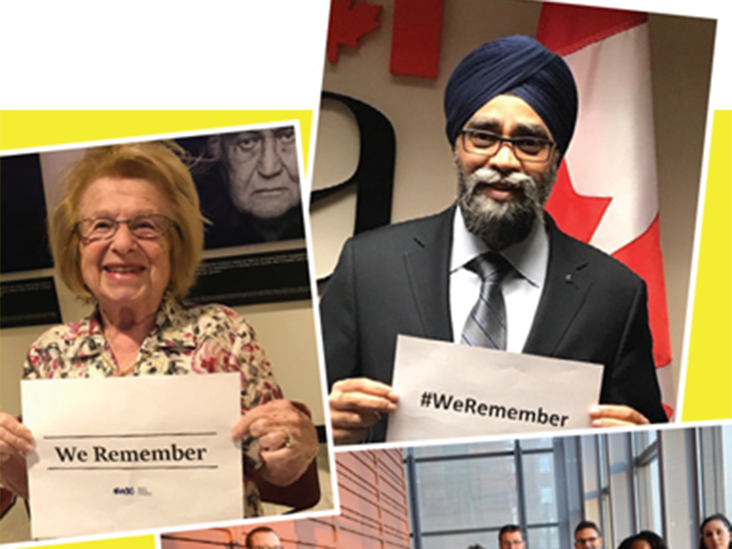 Monday, January 27 marks International Holocaust Remembrance Day and the 75th anniversary of the liberation of Auschwitz. As the Canadian affiliate of the World Jewish Congress, our national advocacy partner CIJA (The Centre for Israel and Jewish Affairs) is launching their fourth annual #WeRemember Campaign for International Holocaust Remembrance Day. Your participation is vital. 
With levels of antisemitism and Holocaust-denial on the rise around the world, it is critical for all people to take an unambiguous stance against antisemitism to help ensure the horrors of the past are neither forgotten nor repeated. 
A recent study showed that Canadians share a basic knowledge of the Holocaust, but an alarming 52% of millennials cannot name even one concentration camp or ghetto and 62% of millennials did not know that six million Jews were killed in the Holocaust. Furthermore, 22% of millennials haven't heard or are not sure if they have heard of the Holocaust.

With each passing year, the number of Holocaust Survivors left to tell their story first-hand diminishes. We must ensure future generations understand the history of the Holocaust. Show them #WeRemember.
Participating in the campaign is simple:
Create your own #WeRemember sheet or use one of ours. Past campaigns have included organizations, celebrities, politicians, religious figures, and other leaders from across the world. Join Gal Gadot, President Reuven Rivlin, Pope Francis, and the Chelsea Football Club in this year's campaign. Together, we can ensure that this tragic history is never forgotten. By learning from the past, we can build a better future.