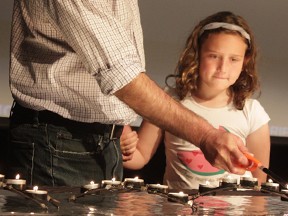 This year marked the 22nd anniversary of the AMIA Bombing - a terrorist attack on the headquarters of the Argentine Jewish Mutual Association in Buenos Aires. At 9:53 a.m. a bomb, leveled the building reducing it to rubble. It destroyed adjacent buildings and damaged apartments, shops, and houses around the block. The toll: 85 innocent people were murdered; over 300 were wounded. The area around the building, the heart of the traditional Jewish neighborhood, resembled a war-torn city.
The Jewish Federation of Winnipeg and the Argentinean Manitoban Association in conjunction with B'nai Brith Canada and Congregation Shaarey Zedek remembered the victims of the AMIA at a special Community-Wide Commemoration Service on Monday, July 18th at 7:00 p.m. in the Berney Theatre. There wasn't an empty seat in the theatre nor was there a dry eye as the program recalled the horrors of the worst terrorist act in the history of Argentina and the largest Jewish death toll from antisemitic terrorism outside Israel since World War II.
The service was marked by moving greetings by the Hon. Jim Carr, Federal Minister of Natural Resources; Hon. Heather Stefanson, provincial minister of justice and attorney general, as well as Joel Lazer, Chair of Community Relations for the Federation. 85 candles were lit to remember the victims.